October 21, 2021
My fellow Talladegans and friends,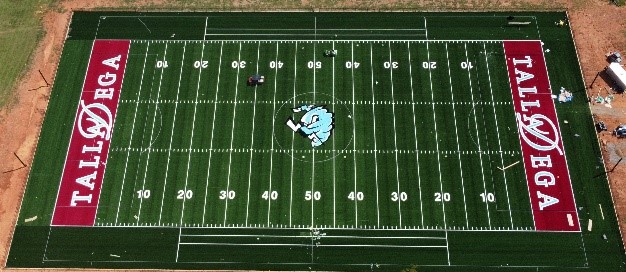 The past week I attended a soccer game for my 7-year-old grandson. He played on an artificial turf field which I imagine is much like the multi-purpose "field of dreams" recently installed at Talladega College.  As I admired the field my mind wandered back to my time at Talladega and to the (then) annual freshman-sophomore football challenge.  We played on an uneven, unmarked, barely mowed field that is now the site of Crawford Hall.  For the record, as freshmen, the Class of 1970 defeated the sophomores.  I choose not to report the results of the next year's contest.  Since we built it, will they come?
Indications are that students, faculty, and staff are adjusting to campus life under COVID-imposed restrictions.   The college announced a scaled down Founders' Weekend celebration consisting of the annual convocation, a reception with Acting President Lisa Long, a parade, a lawn party, and several athletic team events. If you plan to visit campus, please review the Fall 2021 Re-Entry Plan posted on the college website.  The alumni association will  not hold the traditional fall business meeting during Founders' Weekend but will instead host a virtual session the week of November 8th.  Watch for an announcement and posting in the coming weeks. Understandably, the search for the next president of Talladega College is of great interest to alumni and friends.  In keeping with search protocols, candidates' names will not be made public, except for the finalists announced late in the process.   You can provide input to the search committee, including your nominations of candidates, at  http://www.talladega.edu/presidential-search/.
We are seeing an increase in Legacy Fund donations. Our current total of $49,000 is just slightly ahead of where we were at this time last year.  I project that we will have another record year. We still need your help if we are to reach our 2021 goal.  If you have not contributed, please click HERE to pay using a credit card or send your check to: TCNAA, c/o Mr. Norman Campbell, P.O. Box 260881, Tampa, FL 33685. If you have already donated, please encourage other alumni and friends to join you in supporting our alma mater.  You can also use the link and mailing address to renew your TCNAA membership.
The "field of dreams" installation raises the question about Talladega's interest in football.  I have received comments both supporting and opposing the idea of establishing a team.  The final decision will depend on the outcome of the feasibility study authorized by the TC Board of Trustees.  At the least the field should promote interest in a freshman-sophomore football game. Stay safe.
Russell Holloway, '70
Legacy Fund Campaign Contributors