June 1, 2022
Fellow Talladegans and friends,
During the recent commencement and reunion weekend—The Big Comeback—I had the honor of inducting 160 new members into the Talladega College National Alumni Association.  With the work of the TCNAA student outreach committee, the 2022 graduates left campus armed with information to help them affiliate with local chapters, participate in national meetings, and give back to Talladega College.  The commencement exercise ended with a rousing rendition of "Be Not Afraid"—a restored tradition greatly appreciated by many alumni.  The record number of registered attendees produced near overflow crowds for all the events packed into the weekend, including the annual meeting and the banquet.   Class contributions were also at record levels, led by the $125,000 contribution from the Golden Class of 1972.  The weekend was indeed The Big Comeback.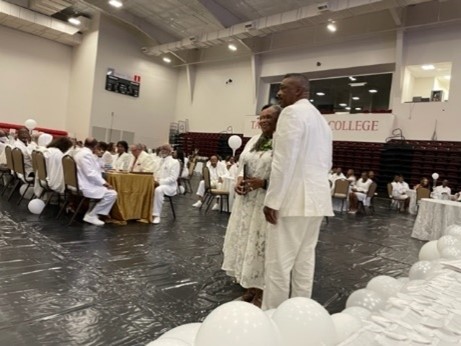 Amid the reunion and graduation celebrations it was clear that Talladega College is preparing for a transition in leadership.  Acting President Lisa Long and President-designee Gregory Vincent jointly attended campus events.  As you may be aware, Trustee Chair Isaiah Hugley announced that Dr. Long will step down as Talladega College President and Provost on May 31st, and that Dr. Vincent will assume the presidency June 1st.  We commend Dr. Long for her leadership during this difficult period in our history.
I opened the annual meeting with a reminder that support for Talladega College is the primary reason for the existence of our organization.  But there are often issues and/or events that are so important they demand our attention and, at the very least, our acknowledgement.  The recent tragic shootings in Buffalo, New York and in Uvalde, Texas rise to that level.  Persons on both sides of the gun ownership debate should be able to agree that something is wrong.  I encourage you to move beyond "thoughts and prayers" and to take some action—political, social, or financial—that addresses gun violence.
As I reflect on events of the recent reunion weekend, The Big Comeback has another possible connotation.  The phrase can be interpreted as both an acknowledgement and a commitment.  It is an acknowledgement that, during this period of infrastructure, enrollment, and programmatic growth, Talladega College has some distance to go as it makes a "comeback" to prior prominence.  We often compare the present-day institution to the Talladega College of our memory.  Most find the former lacking.  We cannot ignore the problems of the past, but we must be willing to table prior grievances and approach future transactions as new, open, and well-intended.   The Big Comeback should be our commitment to comeback and participate in the restoration of Talladega's reputation.  This commitment requires candor, accountability, responsiveness, and transparency from all constituent groups.  For Alumni, this is an ask for you to commit your time, your talent, and your treasure to your alma mater.  We must help Talladega College compete for students, faculty, and funds.  Our metric should not be the Talladega College of our memory nor the HBCU du jour of 2022.  We should strive to make Talladega the best institution that we can imagine.  This is our path back to prominence.  Let's support The Big Comeback.
Russell Holloway, 70
Legacy Fund Campaign Contributors