Triennial XV – Oh What a Time!!!
Of the 120+ alumni who registered for the August 3-6 event in Atlanta, GA you're unlikely to find anyone with negative comments. The Hospitality Suite, staffed by members of the Atlanta Alumni Chapter, was a gathering spot in between activities. The complimentary food and beverages were enjoyed by all who came by.
Thursday night's Salute to Leadership Reception was an opportunity to recognize former presidents of TCNAA. Dove Savage Pinkney (1972-79), Terrelia Ogletree (1979-84), Roy Yvette Grant Clements (1987-93), Matthew Bowie (1993-96), Joyce Hills Sanders Vasser (1996-2002), and Greg Austin (2008-2014) were all present and offered comments about their time in office.
Alumni were treated to an informative workshop with Mrs. Victoria Bowen-Boman, Director of Student Recruitment, who talked about recruitment and retention, offering tips on participation in college fairs.
The Alumni Awards Luncheon on Friday was well attended. Nikki Finney, Class of 1980, offered a call to action; stirring words about alumni responsibility to our alma mater and to our communities. Marilyn Hatcher Daniels, Class of 1967, was celebrated as she accepted the 2017 Franklin W. Thomas, Sr. Outstanding Alumnus Award. Rickey Powell, Class of 1973, thrilled the audience with his beautiful vocals.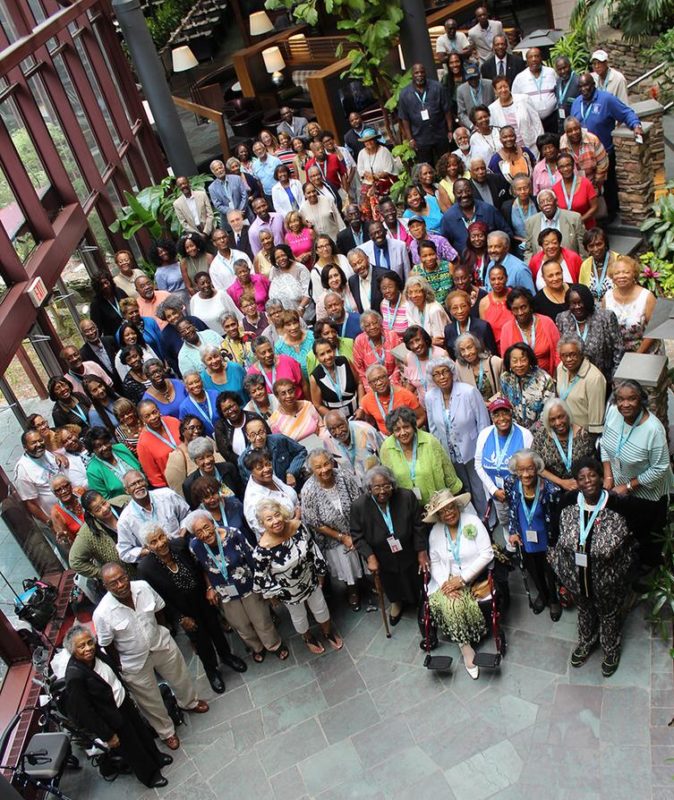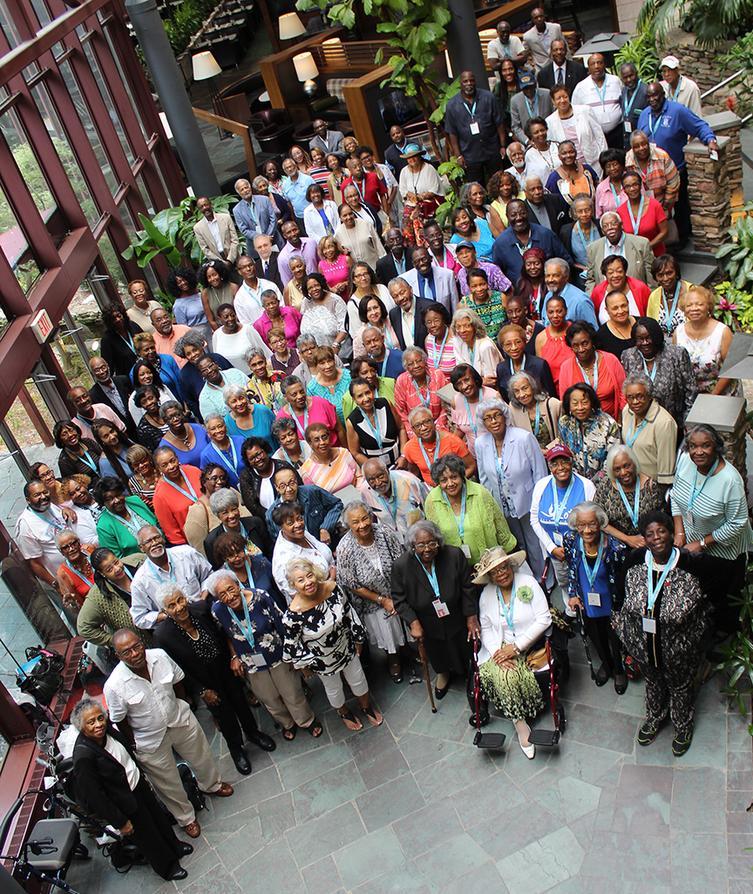 Friday night's Presidents' Reception acknowledged College President Billy C. Hawkins, Board of Trustees Chairman Harry L. Coaxum, and TCNAA President Zenda Bowie. Finger food was plentiful and the music was delightful. We recognized Dr. Fannie Frazier Hicklin, Class of 1939, celebrating her 99th birthday. Alumni were invited to dine at Coaxum's Seafood Restaurant afterwards. The convenience of shuttle bus service opened up the opportunity to participate.
The Business Meeting on Saturday morning included updates from Treasurer Karen Houston and Financial Secretary Norman Campbell. Recording Secretary Denita Johnson expressed appreciation for the outpouring of love and support from alumni during her recovery from multiple surgeries resulting from a November 2016 traffic accident. Triennial Treasurer Greg Austin gave an unofficial report on funds collected for the Triennial fundraiser. Just before Installation of Officers (President Eugene Cain, Vice President Joe Lee in absentia, Treasurer Karen Houston, Financial Secretary Norman Campbell, Recording Secretary Marva Goff and Immediate Past President Zenda Bowie), the body was spellbound during the reading of a letter from Joe Lee.
President Hawkins engaged alumni in a Chat wherein he provided candid responses to questions posed, and he agreed to follow up with continuing information and visits with alumni chapters. Saturday night we enjoyed an enchanted evening of food, music, and fellowship during the White Night Dinner Dance. There was laughter, dancing and lots of photography. Click HERE for the Triennial Photo Gallery.
The culmination of activity was the Sunday morning Ecumenical Service. Keynote speaker, Roy V. Hill II, class of 1968 and former TCNAA President, stirred our passions for Talladega College and we prepared to leave the Crowne Plaza Ravinia. Again, Rickey Powell thrilled attendees; this time with two spine-tingling acapella renditions.
President Hawkins and his Senior Administrative Staff participated throughout the weekend. While we celebrated the obvious hard work of the Planning Team, we acknowledge and we mourn the loss of Jesse Henderson, Class of 1965. Jesse was a major player, along with Marva Goff, in the planning and implementation of Triennial Reunion XV. His perseverance and his love for Talladega were instrumental in the success of the event. He will be missed.
by Zenda Bowie, Immediate Past President
Click HERE for more photos from Triennial XV.